GUIDANCE:
A Mobile Guide
For Tour Guides
Product Design, Self-Practice Project
Tour Guides
know the value
of good Guidance.
Tour Guides track dozens of data points daily. This project synthesized info from a variety of sources, to facilitate Guides' job, to give great tours:
Company information: Tour Details, Schedules, Policies, Team-members

Traffic, Weather, Tourist Site Hours & other details,

Current Events that could impact a tour: Sports events, Parades, VIP visits, Protests
I know from anecdotal experience that guides need to track and monitor lots of details.
Guidance is a mobile app that brings it all together in a handy, useful, and delightful way
Surveys
Purpose: to find good interview subjects
I wanted to interview some guides to see what they thought would be helpful, so I set up a screener survey and invited 20 tourism professionals to fill it out:
Process and Insights:
I created a Google Forms survey with 12 questions about technology at work

15 people filled out the survey

I identified 8 guides who always carry a smartphone and use 4+ websites daily

I selected and scheduled interviews with 6 guides
Interviews
Checking my biases:
I came to this project from my anecdotal experience, so I felt it was important to validate my intuitions about what guides would need.
I interviewed 6 guides, about a range of technology and work issues, including:
Can you tell me how you get ready for a tour?

Do you clock in with a smart phone?

What other work tasks do you use the smart phone for?

Are there technologies and/or information sources you regularly use?

Do you have easy access to internal company details to share with tourists? How do you feel about accessing internal company info?

Do you have good external sources of info that are part of getting informed? How do you feel about those external information sources?

Do you look up stuff for guests, like hours of operation or prices for attractions example? If you look up stuff, what resources do you use?

Have you ever thought about ways this process could be better?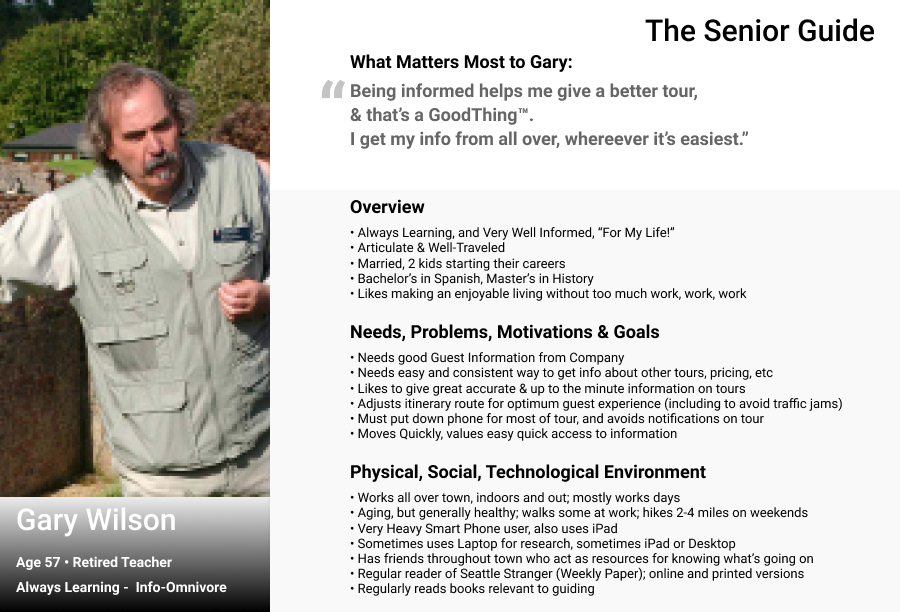 User Persona
Gary the Senior Guide
Based on the interviews I created a single persona. I kept a picture of this persona on the wall in my studio, and referred to it throughout the entire product development process.
Insights:
Interviews indicated that those guides most engaged in providing details to their guest, were also those with heaviest smart phone usage, I also discovered other core similarities.

These guides were typically very curious, always learning, and well-connected throughout the city.

Using this persona informed the UI development, by indicating what guides would use most.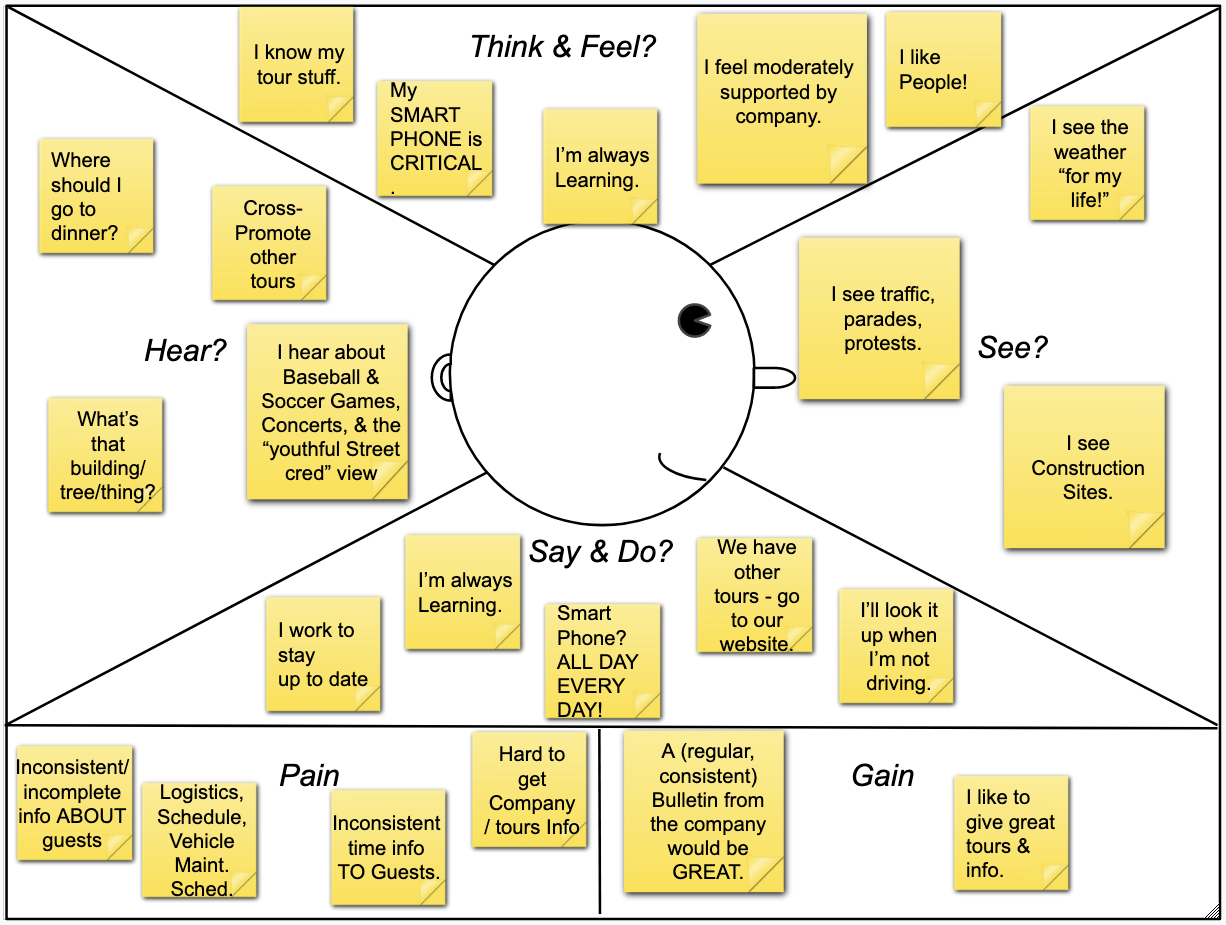 Empathy Map
Based on the interviews and the User Persona, "Gary," I laid out an empathy map to document his experience, and sources of pain and gains.
These tour guides are quick-thinkers, tech-savvy, and involved in their city.
They're always learning, and heavy internet users.

They see changes to traffic flow, live, as it happens.

They hear questions from guests, and directives from management.
Their sources of Pain and Gain were not surprising.
They generally want to do a great job, and they want good information from the home office to help them with that.

They get their feathers ruffled sometimes, if the company has given the guest different info, or if they have trouble getting straight info they need.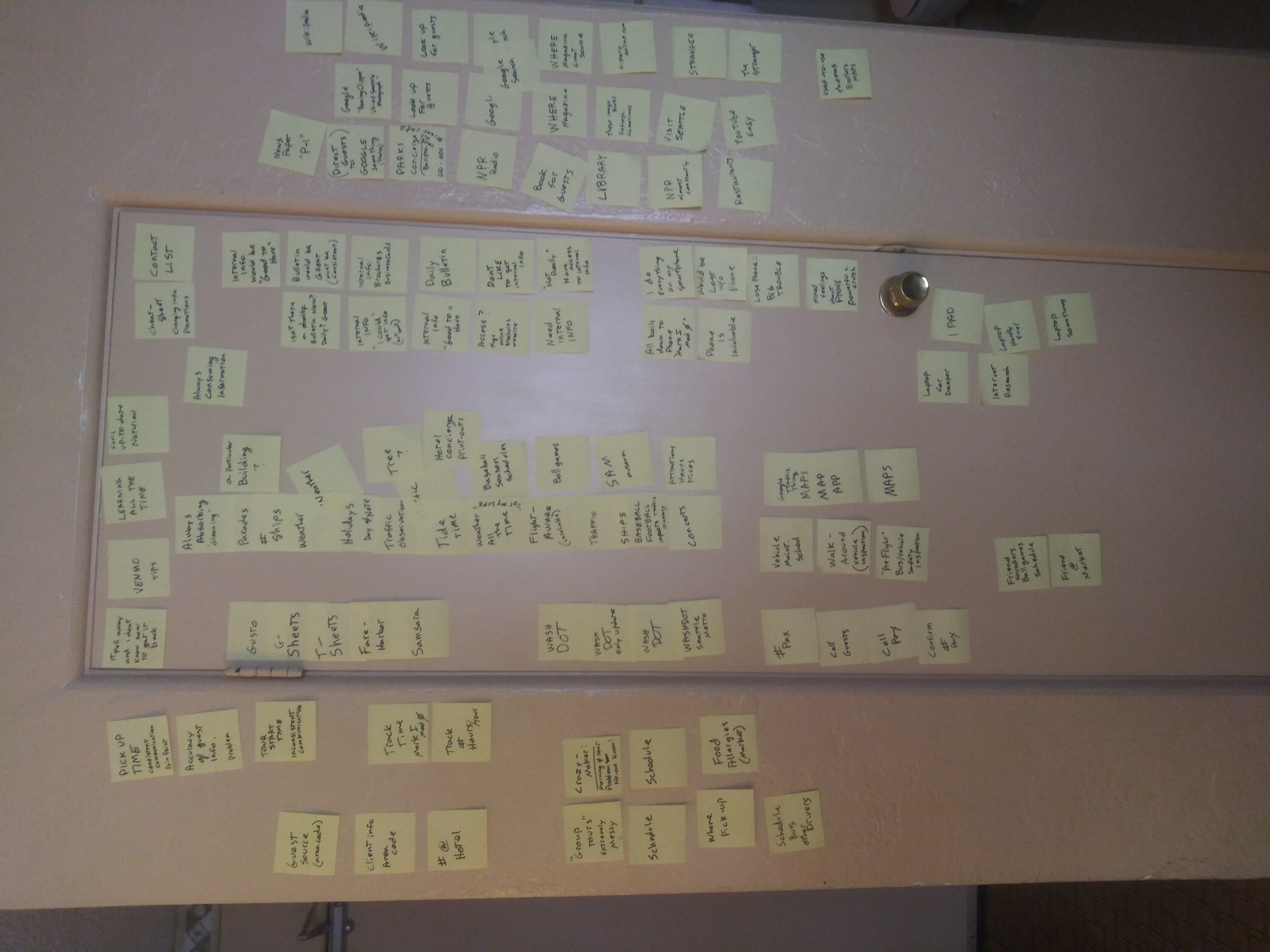 Affinity Mapping
Identifying common interests among those Tour Guides I interviewed, led to a greater understanding of how to add value.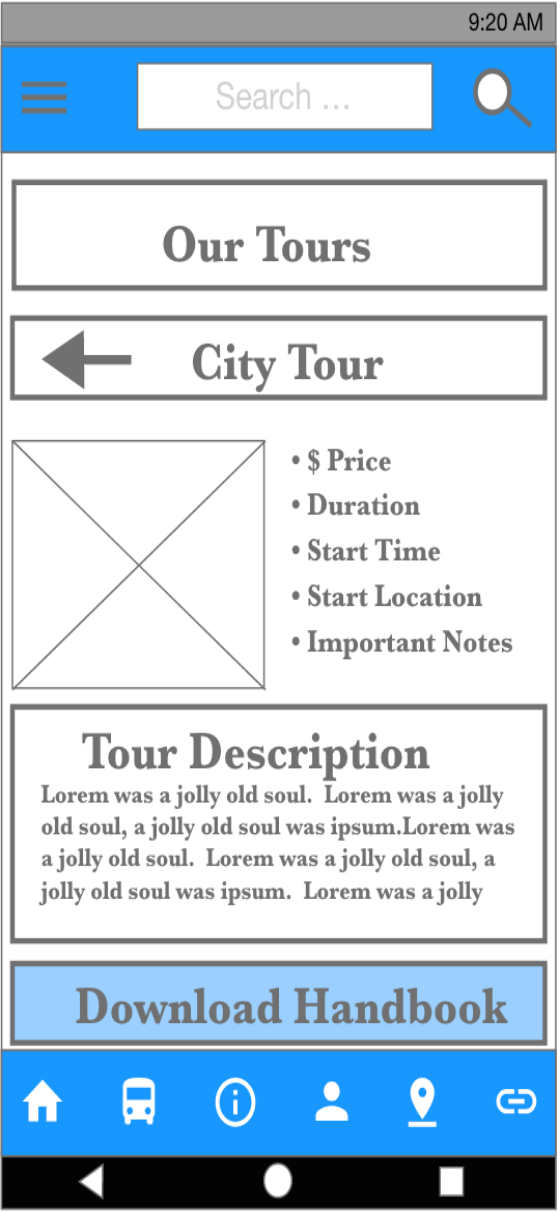 Wireframes
Context:
I laid out complete set of Wireframes for clarifying, and later testing, logical flows.
Insights:
Wireframing helped clarify flow issues.

Some screens' purposes were improved.

I started with a low fidelity pencil sketches, then transferred into low fidelity Adobe XD and then higher-fidelity in Adobe XD.

These wireframes led directly to the UI design, and later to Prototyping.
User Testing
Before getting too deeply into the UI, I did a round of testing, to find possible problems.
Process and Insights:
Five testers were selected for their knowledge of guiding and their familiarity with smart phone apps.

Remote Usability testing identified areas to improve vocabulary and logical flow.

Testing also revealed that Guides wanted more information from their company than I had thought, leading to company-branding and more company information in later iterations.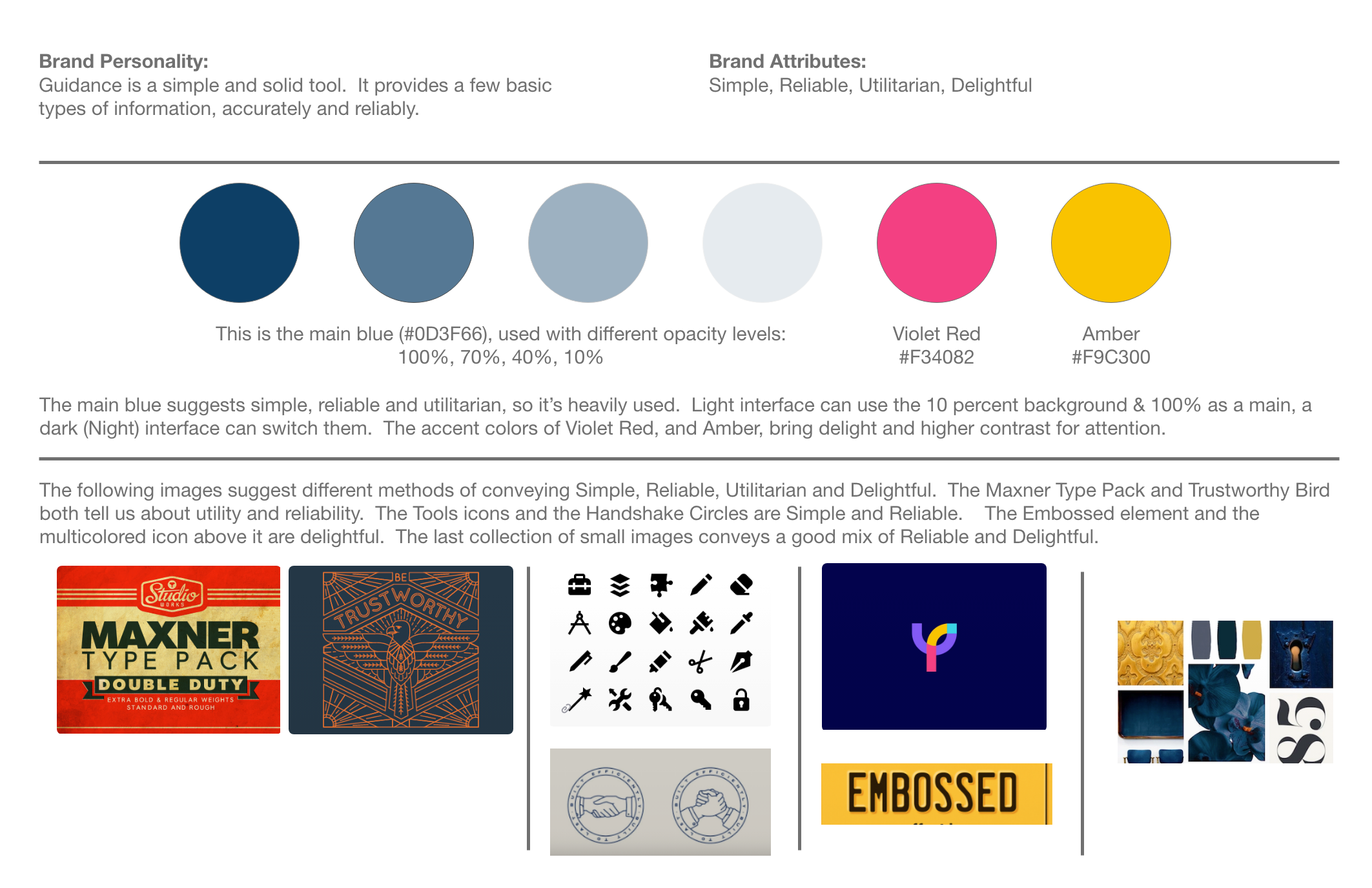 Moodboard
Guides said in interviews that they need something simple. Other research indicated the app needs to be perceived as Reliable and Trustworthy if it's going to get used at all.
And, a delightful product is a better product!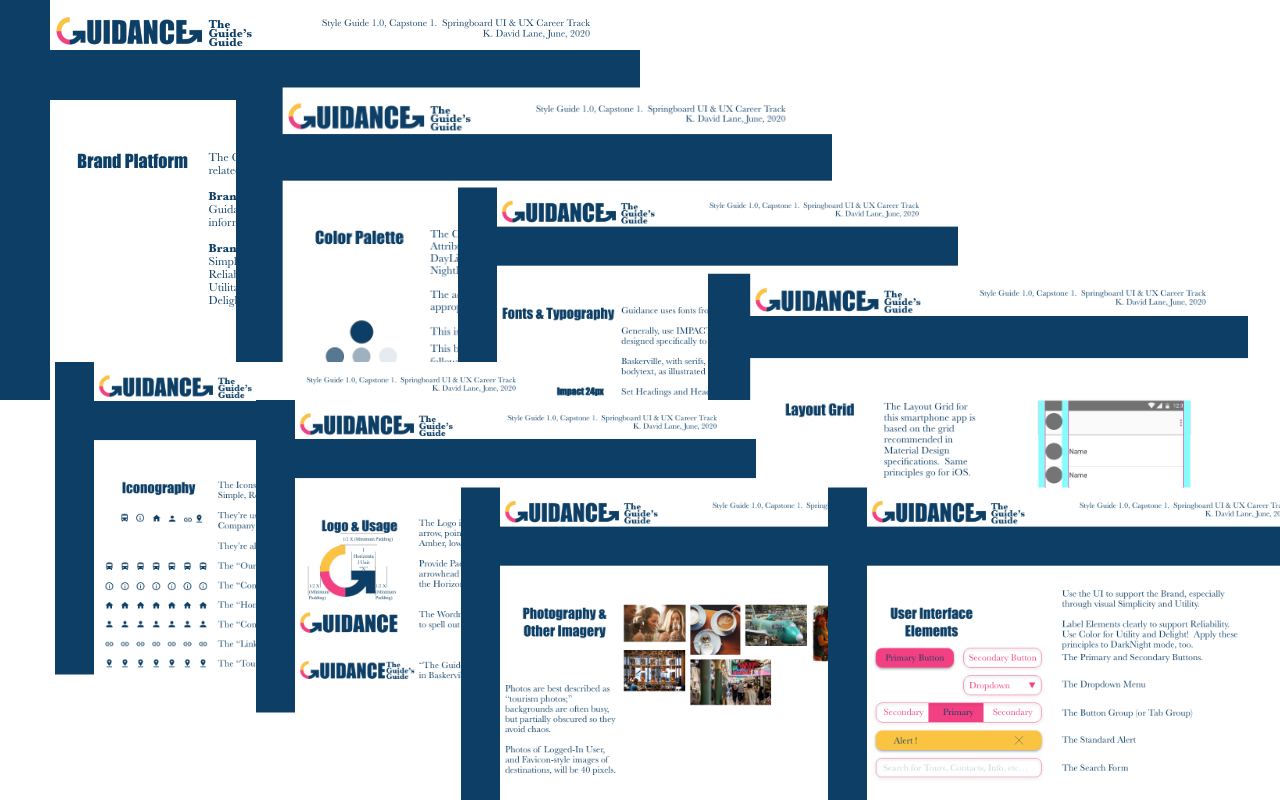 Style Guide
Iterating from Moodboard towards Simple, Reliable, Utilitarian, and Delightful, I developed an 8-page Style Guide for the UI User Interface.
Brand, Colors, Fonts, Layout, Icons, Logo, Images, Elements.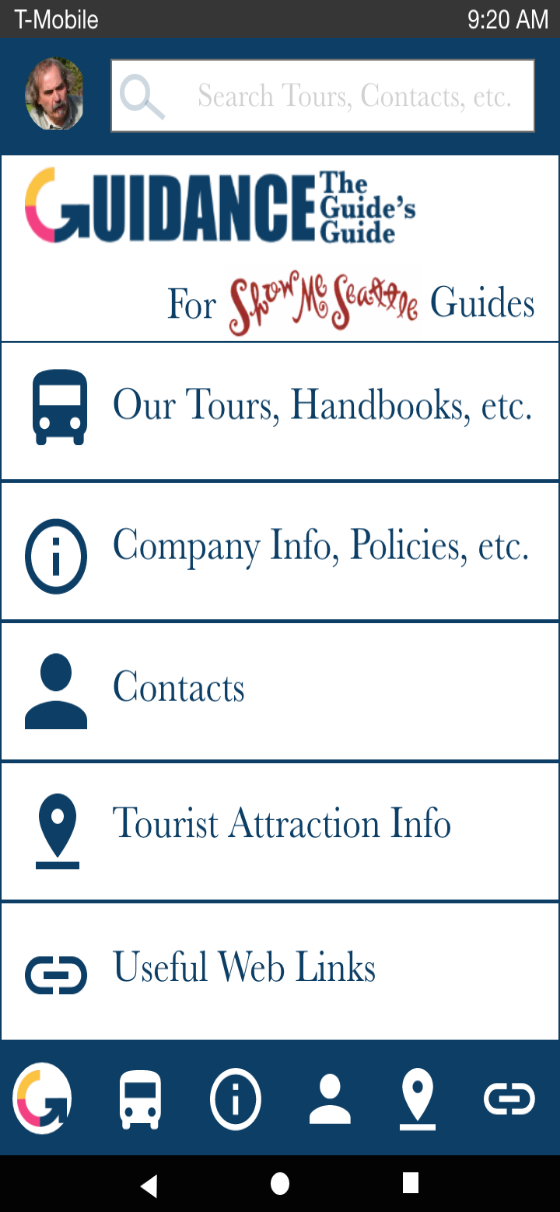 UI Design
Example:
Following from the Mood Board, the UI was straight-forward.
Guiding Themes:
Simple

Reliable

Utilitarian

Delightful
Insights from Usability Testing
Guides particularly wanted solid info from their employer:
what you had learned, experienced, or simply how you felt during the project.
What are the Tour Details? Including Pricing, Timings, Included Features, etc.

What are the employer's policies, for things like cancellations, rebookings, etc.
Perhaps the mobile app should be re-envisioned as an Employer's app for their employees, rather than a stand-alone app for guides.
Further interviews led to a re-iteration, and a second round of usability testing indicated that this "Company App" model is a better fit.
90%
Guides said they would "Definitely" use.